the athenian studio SAINT OF ATHENS thought outside the box when designing this jewelry for the italian brand gavello in one of the most visited summer places in Greece, mykonos. the architects and the brand came up with a design that breaks the stereotypical looks of the island with a creative and aesthetic idea.
all pictures from gavriil papadiotis
gavello nel blu from SAINT OF ATHENS and dive architects is a jewelry store within a swimming pool. the store has a typical Cycladic facade and is designed to look like a real swimming pool inside. light blue checks, beach balls, striped bolsters, lockers, and a wall-mounted pool ladder create a familiar vibe and evoke an oblique summer feel. the designers have included practical elements as well as conceptual props such as mirrors, cushions, display cases, display cones and cylinders – on which someone might even want to hang their briefcase – that enhance the concept of the pool.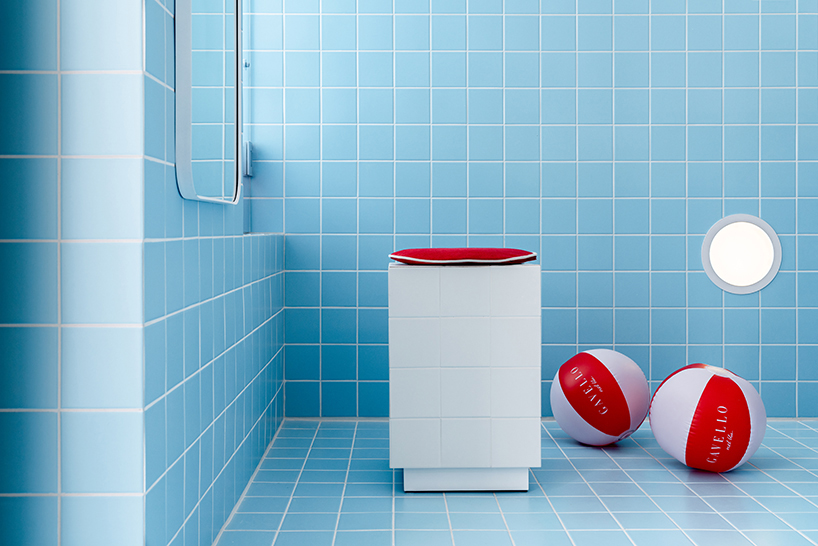 the jewels are displayed inside four recessed niches inside the tiled wall and illuminated by 2 linear LED strips. another display element would be the main rectangular table which dominates the interior space and includes the rest of the jewelry. according to the architects, cosmopolitan and picturesque places like mykonos tend to lock themselves in a dipole of rigid tradition against enforced extravagance. in gavello nel blu, the aim was to show that a few square meters is enough for interior design to show its surreal side of ingenuity and for opulent products to acquire a whole new market context.